Bonding with your baby
Birth is, above all, an intimate encounter between you and your baby, a sacred moment that belongs to you.  
At the American Hospital of Paris Maternity, we do our utmost to ensure that each baby stays with his or her parents, even in the recovery room following a cesarean section. 
Skin-to-skin
We attach special importance to the bond you develop with your newborn immediately following the birth.
Whenever possible, we encourage skin-to-skin contact with your infant in the delivery room.
When your baby's skin touches yours, he or she can feel your warmth and smell your scent. These sensations trigger innate behaviors in babies that help them begin building a close bond with their parents.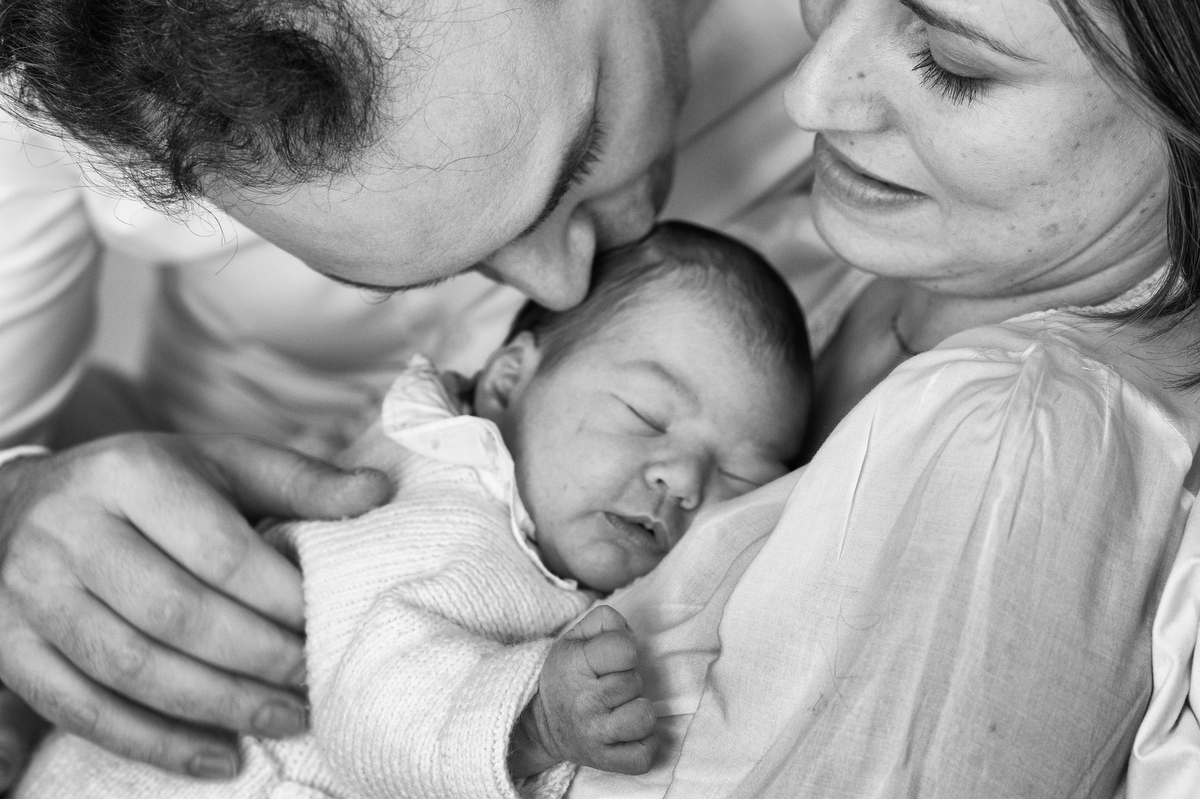 High-quality newborn care
Our nursery is designed to meet all of your newborn's needs while providing highest-quality care. 
You can bathe and change your baby in the nursery with help and advice from our pediatric nurses and aides. In general, you will change your baby before feedings.
Your baby will be bathed every day. The pediatric nurse aide will help you with this task. She will also weigh your baby and take his or her temperature. 
Take part in these activities as often as you can; the nurse aide is there to help and give you advice. Throughout the day, the father or partner can also help care for the baby through bathing, umbilical stump care and diaper-changing.
Our nursery has a specially designed area for babies who need continuous surveillance and advanced care, where our staff can keep constant watch over them. 
Although the continuous presence of pediatric nurses or midwives is not mandatory in French maternity wards, the American Hospital Paris has a team of pediatric nurses and midwives on duty 24/7. This team is trained in first aid and painless post-partum recovery techniques. 
 
Special parent-child relationship
When your baby is born, he or she will be placed on your tummy for skin-to-skin contact. In most cases, all of your baby's immediate care can be performed in the presence of both parents. 
Each room features a special area where mothers can independently take care of their infant if they wish. This means you can remain with your newborn at all times, from the birth to the moment you leave the Maternity. 
Presence of the father or partner
We ensure that the father or partner is as involved as they want to be in the birth:
Presence during the delivery (vaginal birth or C-section)
Skin-to-skin contact with the baby
Access to the nursery and help in providing care
Guest bed available on request