Preparing for the birth
Early prenatal interview
To give you an opportunity to discuss your pregnancy and ask questions, and to benefit from optimal pregnancy monitoring, we propose an early prenatal interview with a midwife from our team. 
Pregnancy is a source of joy and pride, but also of anxiety – a time when emotions run high.
In the first trimester, you will experience major physiological changes. You'll often be tired and maybe nauseous. Although you are happy, you might also have the feeling that some things are beyond your control, coupled with a sense of vulnerability.
If you're pregnant for the first time, your role is about to change from being the daughter of your own mother, to becoming a mother yourself. For some, this situation may cause memories to resurface which might be hard to cope with. For those of you who are already mothers, the arrival of a new baby may raise questions about sibling relationships.
In its "2005 Perinatal Plan", the Haute Autorité de Santé, France's health authority, recommends an individual pregnancy interview in the fourth month. 
The American Hospital of Paris gives each mother-to-be the opportunity to meet one of our midwives, alone or with her partner. This interview, which is covered by the French national health insurance, is the first step of an approach designed to help you prepare for childbirth.
It is not a typical medical consultation as you will not be examined. It is an interview where you can speak openly and be listened to by a professional.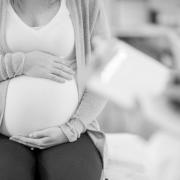 The goals of the early prenatal interview are to:
- Encourage you to express your expectations and needs and discuss your birth plan
- Provide helpful information about available support
- Inform you about the different methods used to monitor your pregnancy
- Assess the impact of this birth on your life as a woman
- Answer any questions or concerns you may have
- The interview usually lasts from 45 minutes to an hour
- After the interview, if needed, the midwife might recommend consultations with other professionals such as a nutritionist, acupuncturist, osteopath, sophrologist, psychologist or psychiatrist.
Childbirth classes
As the pregnancy draws to an end, it is important to prepare for the upcoming birth of your baby.
Childbirth classes are essential, even if you have already given birth in the past or if you have scheduled a cesarean section. Your maternity coach will invite you to attend these classes starting from the fifth month of your pregnancy.
Your birth plan
Our team wants to know your wishes regarding the birth of your child, and will do their utmost to satisfy them and support you and your partner in your future role as parents.